I was born on March 15, 1950, in Shahsavar. Good voice was inherited by me and my siblings, from our father and grandfather. My father was my best patron in the family. Whenever there was a program at school and they invited me to attend, not only that he did not object, but he encouraged me dearly. I used to attend art competitions in school, relying on his protection.
The last time that I gained first place in the singing competitions among all students over the country, I met my music master, the late Mahmood Karimi, who was a member of board of referees. Master Karimi encouraged me and suggested to teach me Persian music (Dastgah, and Radif of traditional music). Hence I seriously began to study Persian traditional music under his tutorship. Not longer than tow years after teaching me, he introduced me to The Ministry of Culture and Art, for professional performance. I remained his student, even years after beginning my professional activities.
I cooperated with The Ministry of Culture and Art for five years. During this period I
attended some performances in television, and some concerts in Tehran and some other cities. I also performed some concerts abroad, with other active groups of the ministry, to present Persian traditional music. I assume these concerts were performed from 1968 to 1973.
I married on 1973. Two months later, I was invited to work with The Center of Preservation and Dissemination of Music (affiliated to Radio and Television Organization), founded and managed by Dr. Daryoosh Safvat, and I traveled to Belgium and France to perform concerts, along with a group of musicians.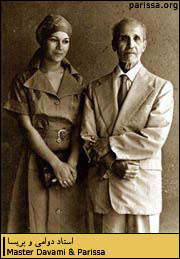 Hence I began my work with The Center of Preservation and Dissemination of Music and it took me five years after my last professional activity. Within this period, I got acquainted with performance of old popular songs and traditional songs, under tutorship of master Davami.
My performances during this period were as followings:
- Attending three Art festival of Shiraz
- Attending some performances in Iranian television, Tehran University, Bagh Ferdows Hall, City Theatre
- Performing some concerts out of the country
In mid 1978, I traveled to Japan to attend Asian Traditional Performing Arts, invited by Japan Foundation. The detailed report of this trip was published in "Musical Voices of Asia".
I married on 1973. My children Sara, Laila, and Dara were born in 1974, 1979, and 1984. My elder daughter is married now and she has two daughters.
After revolution, on 1978-1979, when there was disturbances in musical affairs, I was forced to stop my musical activities. By birth of my second and third children, all my efforts were spent on my family.
On 1980 The Center of Preservation and Dissemination of Music invited me again to teach Persian songs to women. Since women were not allowed to do any musical activities, especially singing, it seemed to be a positive step to me, so I found it useful and accepted the invitation.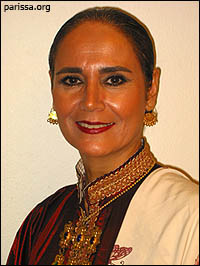 I worked in that center – where had a completely different environment by that time - for about three to four years and a good number of students became acquainted with traditional Persian music. Anyway, I continued working with the center, up to 1995. By that date for the first time after Revolution I traveled abroad, along with a musical group and performed a lot of concerts in different European countries and was welcomed by our countrymen residents of foreign countries.
I stopped my cooperation with The Center of Preservation and Dissemination of Music, after my return to Iran. Since then, I have private song students at home. And since then (1995), I began traveling abroad to attend different international festivals and perform Persian traditional music for interested audiences in foreign countries. And I have continued traveling eversince.